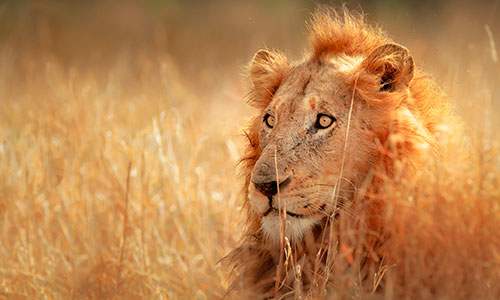 Greater Kruger National Park & Limpopo Safaris
Trailfinders has done the hard work for you and brings you a handpicked selection of the best hotels.
Featured in
For inspiration on how to include any of these hotels in a tailormade holiday ask for your copy of Trailfinders Africa & the Middle East brochure.
GREATER KRUGER NATIONAL PARK is a land of adventure and exploration. Lions, rhino and buffalo cross its open spaces, while leopards laze in acacia trees and herds of elephants scour the bush: this is Big 5 country. Whether you stay at a simple lodge or a luxurious tented camp, thrilling game viewing is the order of the day. North of Johannesburg is Limpopo province, where the Big 5 continue to abound: Tranquil Marakele National Park sits majestically in the heart of the Waterberg Mountains and is malaria-free.

Sabi Sand Game Reserve South Africa's oldest Big 5 game reserve boasts an incredibly high concentration of wildlife within its 65,000 hectare border. Sharing a 50km unfenced boundary with Kruger National Park, game viewing possibilities are unrestricted and the reserve is particularly well known for amazing leopard sightings. Coupled with some of the finest luxury lodges in the country, Sabi Sands offers the ultimate safari experience.

Kruger National Park At nearly 2 million hectares, South Africa's most famous Big 5 safari destination is one of the largest national parks in Africa. With landscapes ranging from semi-arid valleys to rocky cliffs and flat bushveld, the diversity of habitats has afforded an explosion of wildlife, with over 150 recorded mammal species and 500 varieties of birds. Quite simply, Kruger is a wildlife lovers' paradise just waiting to be explored.

Thornybush Game Reserve This 14,000 hectare fenced reserve is set in the heart of rolling lowveld savannah and is located close to the borders of Kruger National Park. As a private game reserve, visitors are able to go off-road in their escorted game vehicle to track the resident wildlife, ensuring thrilling close up encounters. As well as the famous Big 5, the reserve is also home to spotted hyenas, cheetah, hippos and over 280 bird species.

Klaserie & Timbavati Reserves Sharing an unfenced border with Kruger National Park, neighbouring Klaserie and Timbavati game reserves both offer fantastic Big 5 experiences. Steeped in history, each reserve covers approximately 60,000 hectares and are home to a diverse range of game lodges to suit all tastes. In addition to the plethora of game found in this region, Klaserie is known for its prolific birdlife and prestigious Timbavati for its resident white lions.

Karongwe Game Reserve Renowned for the four rivers which flow within its 9,000 hectare boundary, the unfenced Big 5 reserve of Karongwe sits in the shadow of the stunning northern Drakensberg Mountains, close to Kruger National Park. With undulating hills, mopane bush and rocky outcrops, the diverse vegetation on the reserve provides the perfect habitat for the elusive leopard as well as an abundance of birdlife and game.

Marakele National Park Located in northern Limpopo province in the Waterberg Mountains, remote Marakele means 'a place of sanctuary' and is a scenic and luxurious Big 5 destination, covering 60,000 hectares. Contrasting majestic mountain landscapes with grassy hills and jagged valleys, the park is especially noted for its diversity of bird life including what is thought to be the largest colony of endangered Cape Vultures in the world.
Read More »