The monuments of ancient Egypt are so spectacular and enduring that they have been tourist attractions since before Roman times.
The iconic Pyramids and Great Sphinx are as astounding today as they were centuries ago and in Cairo you have one of the greatest Arabian cities in the world literally full to the brim with history.
To the south, Luxor, known as The 'World's Greatest Open Air Museum' has almost an embarrassment of riches.
On the East Bank lies the City of the Living, the vast temple complex of Karnak with its elegant soaring columns, majestic statuary and imposing walls.
On the West Bank rests the cool dark tombs of the Valley of the Kings, the city of the dead, the walls as alive with colour as when they were sealed over 300 years ago.
In the deep south Aswan's setting is nothing short of magnificent.
Facing one of the prettiest sections of the Nile, Egypt's sunniest town enjoys a view of sweeping desert dunes, elephantine granite rocks and emerald islands carpeted in palm groves.

Order your brochure
WHERE TO GO IN EGYPT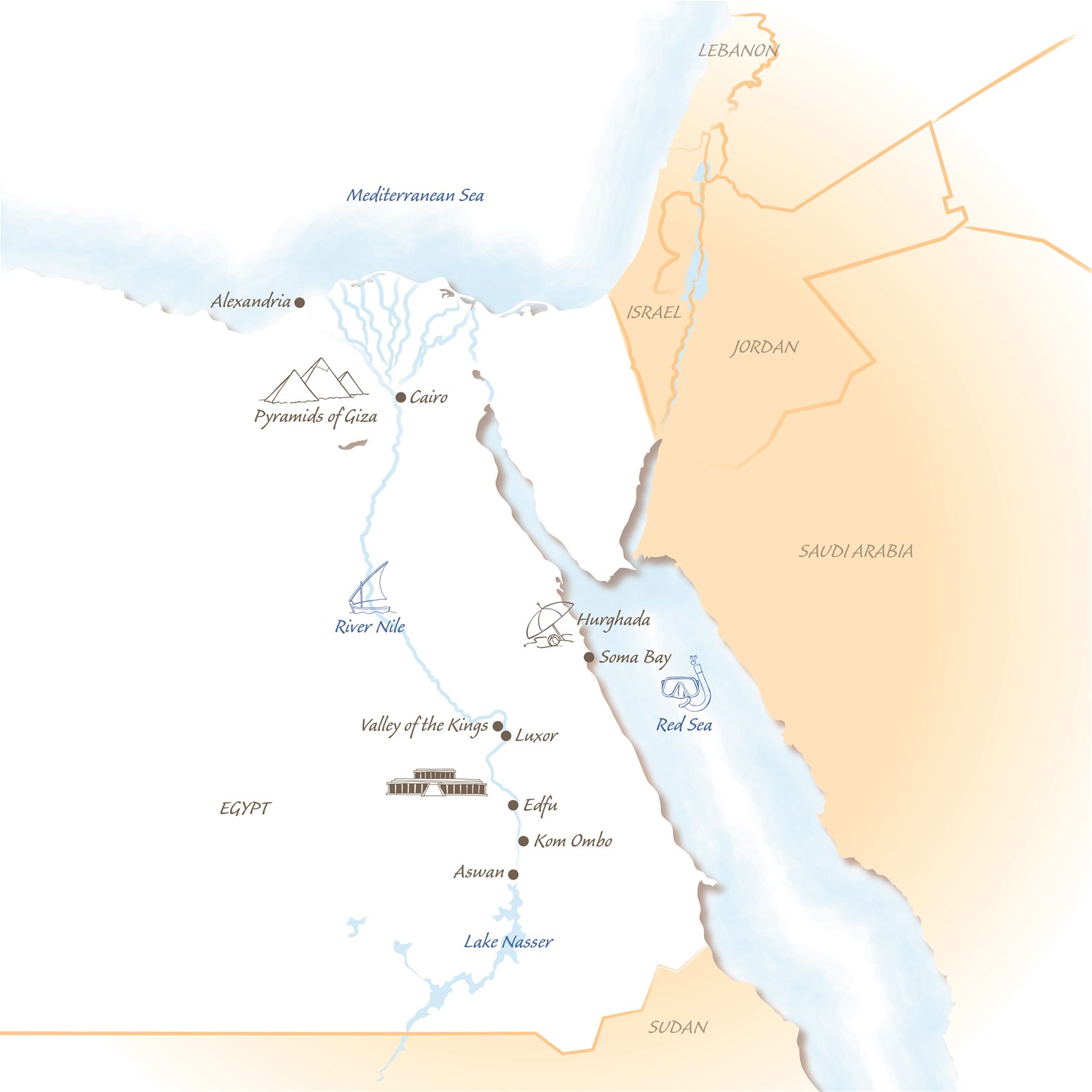 Cairo
The bustling Egyptian capital of Cairo has long been one of the most important cities in Africa throughout history. The iconic Pyramids of Giza and Great Sphinx are not to be missed whilst the world renowned Egyptian Museum boasts a wealth of ancient treasures. Delve beneath the surface of this energetic city and you will be rewarded with beautiful mosques, Coptic churches and colourful souqs.

Luxor
Home to a fantastic array of historic monuments, Luxor was once known as Thebes and was the capital of Ancient Egypt. Situated on the eastern banks of the Nile, the modern day city is built between the spectacular temple complex at Karnak, and the smaller but no less impressive Luxor Temple. To the west are some of Egypt's most important archaeological sites, including the Valley of the Kings (home to the tomb of Tutankhamun), the Valley of the Queens and the beautiful Temple of Hatshepsut.

Aswan
Picturesque Aswan is home to the famous Philae Temple, which was dramatically relocated stone by stone following the construction of the Aswan High Dam and the subsequent flooding of the valley and creation of Lake Nasser. Enjoy the laidback atmosphere in the city whilst watching traditional feluccas sail gently across the Nile River to Elephantine Island or the botanic gardens.

Nile Cruises
The mighty River Nile has been the lifeblood of Egypt since ancient times and most of the country's historic landmarks can be found along its river banks. The legendary journey along the river between Luxor and Aswan is a fabulous way to travel and experience some of the country's most iconic sites with expert guides. Between visits enjoy time to relax on board and take in timeless scenes of river life, seemingly unchanged for centuries.
Red Sea Coast
Once a tiny finishing village, the Red Sea town of Hurghada is now a well-established resort offering superb diving and snorkelling opportunities over stunning coral reefs. Whilst there are a number of resorts beside Hurghada itself, many people choose to stay beside the quieter bay of Sahl Hasheesh to the south or trendy El Gouna to the north. Only a few hour's drive from Luxor, the Red Sea coast is ideal for those wanting to combine the wonders of the Nile Valley with a relaxing beach break.
Soma Bay
Located approximately an hour's drive south of Hurghada, the purpose built resort of Soma Bay offers visitors an excellent range of facilities and activities on the western shores of the Red Sea. In addition to lovely beaches and excellent diving and watersports, the area boasts a superb golf course and a central marina area with multiple shopping and dining options.
OUR RECOMMENDED HOTELS IN EGYPT
When is the best time to visit Egypt?
Egypt

Fast Facts

flightaccess_time
Flight Time to Egypt
Approx
4¾ hours
public
Visa Required?
Yes
€20 Off your visa service charge if you have booked your holiday with Trailfinders.
verified_user
Recommended Immunisations
Diphtheria/Tetanus/Polio booster
Hepititis A (vaccine recommended)
Rabies
Typhoid
Yellow Fever

20% Discount off immunisations at our London Travel Clinic if you have booked your holiday with Trailfinders.
business_center
Trailfinders Travel Insurance
Enjoy comprehensive cover in Egypt from just €69 for 7 days with our superb value Single Trip Travel Insurance.
Visa information given is given for Irish citizens holding a valid Irish passport with at least 6 months validity remaining. Immunisation guidelines assume routine Irish childhood immunisation has been given and will not apply to all situations. Medical advice should be sought. Your Trailfinders consultant will advise you of the specific visa and immunisation requirements for your trip.
YOUR TRAVEL PLANS ALWAYS TO HAND, ANYWHERE, ANYTIME - YOUR ESSENTIAL TRAVEL COMPANION
Our free Viewtrail App stores your essential travel information in one secure place, ensuring we are with you from start to finish.
View your travel plans on or offline, wherever and whenever you wish
Live flight notifications - real time information as you travel
Online check-in links and pre-tour notifications
Luggage allowance
Mapped places of interest - restaurants, shops, stations...plus route guidance back to your hotel
View e-vouchers and export them to your Apple wallet
Secure access to booking history, profile and insurance contact information
One touch emergency contact 365/24/7
Add to calendar function
Countdown to travel
Local time, weather, translator and exchange rate calculator
Sign up for our Email and be the first to hear about our Red Hot Offers and Travel Inspiration.
Our full range of 2020 brochures and the latest edition of the Trailfinder magazine are out now - get ahead of the rest and start planning your next escape.
If you can provide a few more details we can look at the best available options before we call you.