A holiday to Madagascar promises a host of natural wonders.
Cast adrift in isolation for over 80 million years, the world's fourth largest island boasts an astonishing range of bio-diversity found almost nowhere else on earth. Largely off the beaten track even today, this is a deeply rewarding destination that few have had the pleasure of discovering.
Deep in the heart of the famous national parks you'll find unique wildlife from lemurs and giant chameleons to over 300 species of bird. The scenery is no less varied from lush rainforests and rice terraces, to desert like plains dotted with soaring Baobab trees.
To complete the picture, you'll discover beautiful beaches and crystal clear waters teeming with marine life. With so much to offer, Madagascar is sure to capture your heart!

Speak to a Travel Expert
To get the most out of your Madagascar holiday talk to our expert Travel Consultants
OUR MOST POPULAR HOLIDAYS IN MADAGASCAR
Highlights of Madagascar
14 days / 13 nights
from €1,699

See lemurs in the wild on a guided walk of Andasibe National Park
Learn about local life in the rural village of Fiadanana
Swim in a natural pool
Spend two days relaxing on the beautiful Ifaty beaches
Madagascan Discoverer
15 days / 14 nights
from €3,579

Search for lemurs in Ranomafana National Park
Look out for the teddy bear-like indri in Andasibe National Park
Twilight walk to see nocturnal lemurs
Visit the famous Alley of Baobabs
Tour the Kirindy Forest Reserve
Admire the beautiful scenery at Grands Tsingy
Try to spot ring-tailed lemurs in Anja Reserve and Isalo National Park
MADAGASCAR HOLIDAY HIGHLIGHTS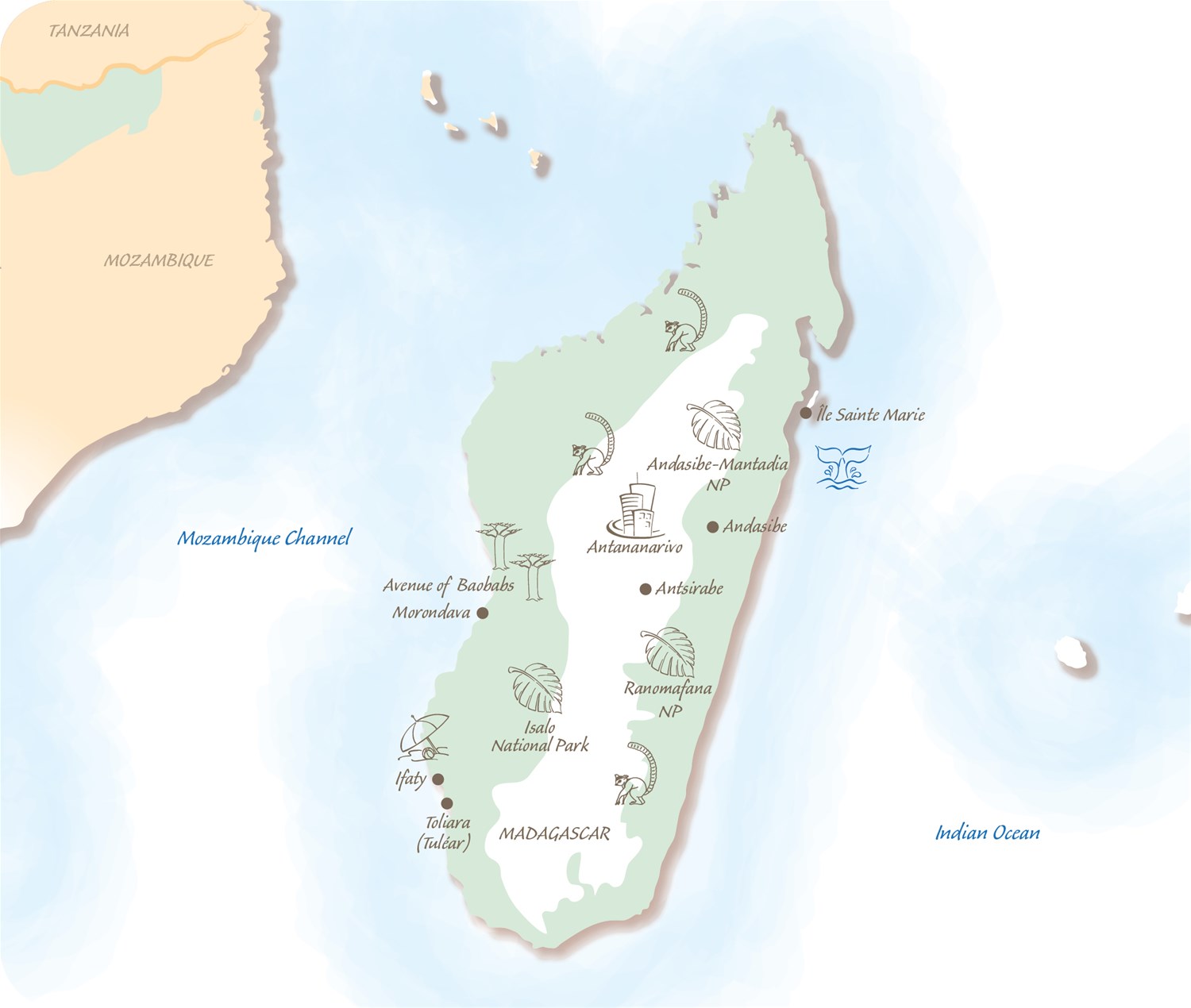 Andasibe Mantadia National Park
Often the highlights of many people's holiday in Madagascar. One of most popular attractions and the best place for viewing the Indri, the largest lemur, as many groups have been habituated allowing for some close up encounters. Eight other lemur species can be found in this park, including the grey bamboo lemurs, woolly lemurs and brown lemurs. Explore the park on walking trails and discover a wealth of other wildlife including frogs, birds and the 2ft long Parson's chameleon.

Isalo National Park
Barren sandstone cliffs protrude from flaxen plains to give Isalo National Park a strange, unearthly landscape. Discover waterfalls, canyons and lush pockets of forest in its beautiful interior. While animal life isn't the parks prominent feature, it is home to several lemur species along with more than 50 bird species.

Ranomafana National Park
Ranomafana boasts beautiful rainforest scenery, rolling hills, waterfalls and streams. The park was originally set up to protect species of rare lemur – the golden bamboo lemur and the greater bamboo lemur – but the park is also home to 10 other lemur species along with rich birdlife and an impressive variety of reptiles.

Ankarana Reserve
Located in the north of Madagascar, Ankarana is a striking reserve with a unique and breathtaking landscape. Explore the other-worldly limestone tsingy which rises up from the forest fl or and wander along pathways which wind through the rocks. Discover bat-filled caves steeped in history and local folklore along with many lemur species, reptiles and birds.

Amber Mountain National Park
Comprised of an extinct volcano, this scenic park features misty waterfalls and crater lakes, lush tropical rainforest and a rich biodiversity. Discover up to 7 lemur species, most notably the crowned lemur and Sandford's brown lemur. Reptile, amphibian and birdlife are also prolific here. Stroll through nearby Joffreville – previously a French colonial town – to experience Malagasy village life.

Madagascar's Beaches
Round off your Madagascar holiday with some time on the beach. Madagascar boasts beautiful white sand beaches and tranquil, crystal clear waters. Take in the spectacular sunsets of the southwest coast and dive or snorkel at the Toliar Barrier Reef, the 3rd largest reef system in the world. Relax at Ifaty and laze in a hammock or for the more active, get out on the water for a host of watersports.
Madagascar

Fast Facts

flightaccess_time
Flight Time to Madagascar
Approx
8½ hours
public
Visa Required?
For stays of over 90 days only
€20 Off your visa service charge if you have booked your holiday with Trailfinders.
verified_user
Recommended Immunisations
Diphtheria/Tetanus/Polio booster
Hepititis A (vaccine recommended)
Malaria
Rabies
Typhoid
Yellow Fever

20% Discount off immunisations at our London Travel Clinic if you have booked your holiday with Trailfinders.
business_center
Trailfinders Travel Insurance
Enjoy comprehensive cover in Madagascar from just €69 for 7 days with our superb value Single Trip Travel Insurance.
Visa information given is given for Irish citizens holding a valid Irish passport with at least 6 months validity remaining. Immunisation guidelines assume routine Irish childhood immunisation has been given and will not apply to all situations. Medical advice should be sought. Your Trailfinders consultant will advise you of the specific visa and immunisation requirements for your trip.
YOUR TRAVEL PLANS ALWAYS TO HAND, ANYWHERE, ANYTIME - YOUR ESSENTIAL TRAVEL COMPANION
Our free Viewtrail App stores your essential travel information in one secure place, ensuring we are with you from start to finish.
View your travel plans on or offline, wherever and whenever you wish
Live flight notifications - real time information as you travel
Online check-in links and pre-tour notifications
Luggage allowance
Mapped places of interest - restaurants, shops, stations...plus route guidance back to your hotel
View e-vouchers and export them to your Apple wallet
Secure access to booking history, profile and insurance contact information
One touch emergency contact 365/24/7
Add to calendar function
Countdown to travel
Local time, weather, translator and exchange rate calculator
Sign up for our Email and be the first to hear about our Red Hot Offers and Travel Inspiration.
Our full range of 2020 brochures and the latest edition of the Trailfinder magazine are out now - get ahead of the rest and start planning your next escape.
If you can provide a few more details we can look at the best available options before we call you.