The dense forests of Uganda's Bwindi Impenetrable National Park are renowned as one of the last remaining habitats of endangered mountain gorillas and a trek to see these fascinating creatures is guaranteed to be an unforgettable experience.
Venture further and discover more of the country's beautiful scenery and varied wildlife. From the chimpanzees of Kibale National Park and Kalinzu Forest Reserve to the savannah plains of Queen Elizabeth National Park, or the raging rapids of the River Nile at Jinja, this varied country has much to offer.

Speak to a Travel Expert
We believe booking online is no substitute for one-on-one service. Between them our expert travel consultants have travelled to over 96% of the world's countries. As a result the service and advice they offer is second to none.
WHERE TO GO IN UGANDA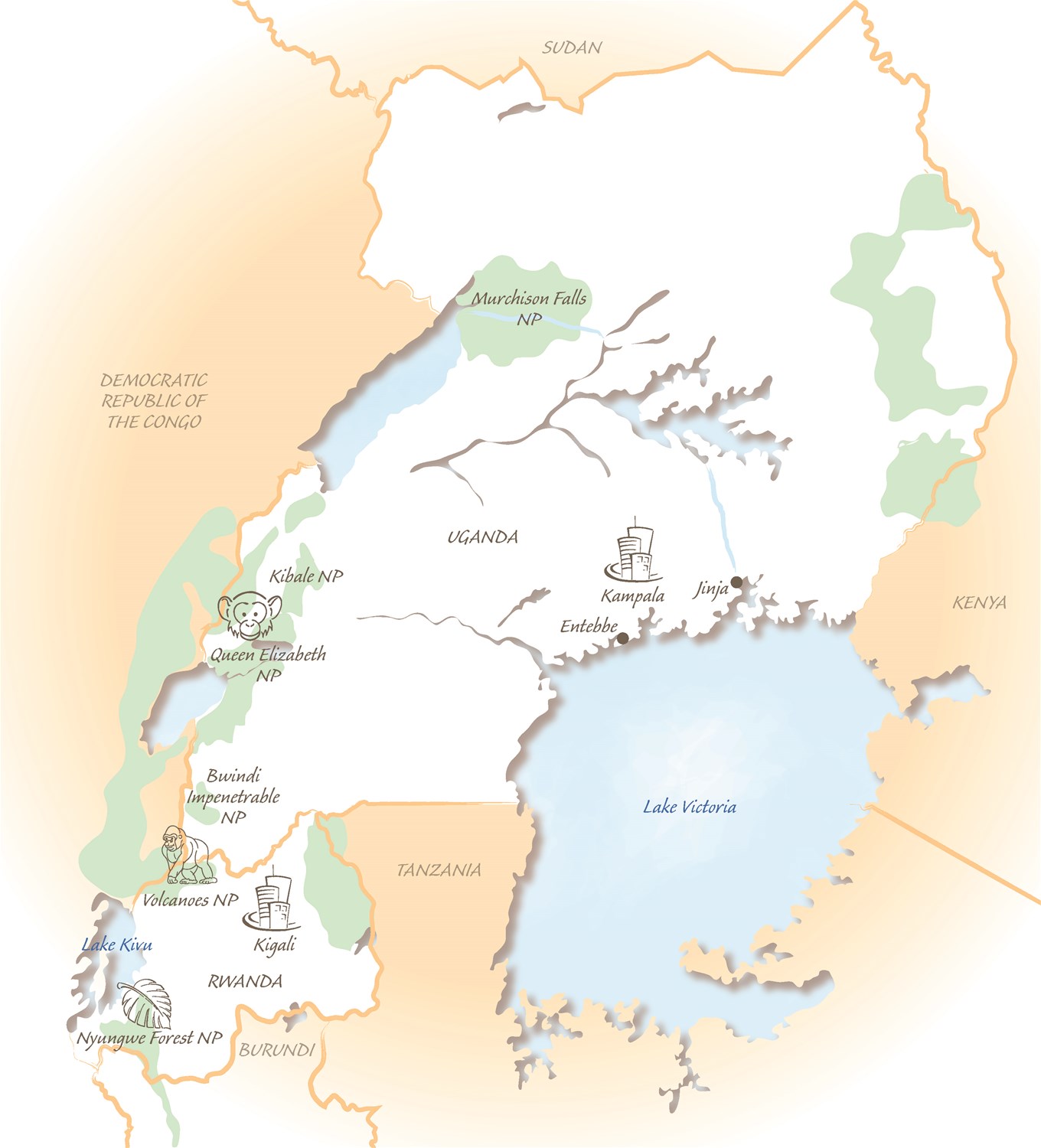 Bwindi Impenetrable National Park
This beautiful and evocatively named park is UNESCO World Heritage listed for its exceptional biodiversity. Its misty rainforest-clad mountains are home to roughly half the world's endangered mountain gorillas with 9 habituated gorilla groups, each of up to 20 members. Treks here start at an altitude of around 1,500m and can be challenging as the gorilla groups can climb to over 3,000m over steep, densely forested terrain.
Kibale National Park
The rainforests of Kibale National Park are considered one of the best destinations in Africa for chimpanzee tracking. There are 60 mammal and 335 bird species, as well as a cornucopia of different plants and insects. Among the mammals there are an amazing 13 primate species including black and white colobus monkeys, blue monkeys and L'Hoest's monkey, but chimpanzees are the star attraction.
Jinja
Situated in eastern Uganda beside the River Nile, Jinja is the region's adventure capital. A series of rapids rushes north from the town through lush rainforest towards the Bujagali Falls, creating some of the world's most exhilarating whitewater rafting. Gentler rafting options are also available allowing you to float down the river as you look out for birdlife, or simply relax and enjoy the view from a riverside lodge.
Queen Elizabeth National Park
Featuring vast savannah plains backed by volcanic mountains and interspersed with craters, lakes, wetlands and forests, this national park offers classic Rift Valley scenery. The park has healthy populations of hippos, elephants and lions as well as chimpanzees, buffaloes and crocodiles. Enjoy game viewing by boat on the Kazinga Channel, look out for tree-climbing lions in the Ishasha region or track chimps on foot at Kyambura Gorge.
Entebbe
Situated on the northern banks of the vast Lake Victoria, Africa's biggest lake, the town of Entebbe makes for a relaxed introduction to Uganda. Visitors can enjoy a stroll along the shores of the lake or through the lush botanical gardens.

Murchison Falls National Park
Murchison Falls is the most impressive waterfall in East Africa and lies at the centre of the largest wildlife reserve in Uganda. Here the Victoria Nile descends dramatically through rocks towards Lake Albert. Despite heavy poaching in the 1980s, animal numbers have now recovered to provide some good savannah game viewing, with lion and elephant being the main attraction.
OUR RECOMMENDED HOTELS & LODGES IN UGANDA
Uganda

Fast Facts

flightaccess_time
Flight Time to Uganda
Approx
hours
public
Visa Required?
€20 Off your visa service charge if you have booked your holiday with Trailfinders.
verified_user
Recommended Immunisations
Diphtheria/Tetanus/Polio booster
Cholera
Hepititis A (vaccine recommended)
Malaria
Meningitis
Rabies
Typhoid
Yellow Fever

20% Discount off immunisations at our London Travel Clinic if you have booked your holiday with Trailfinders.
business_center
Trailfinders Travel Insurance
Enjoy comprehensive cover in Uganda from just €83 for 7 days with our superb value Single Trip Travel Insurance.
Visa information given is given for Irish citizens holding a valid Irish passport with at least 6 months validity remaining. Immunisation guidelines assume routine Irish childhood immunisation has been given and will not apply to all situations. Medical advice should be sought. Your Trailfinders consultant will advise you of the specific visa and immunisation requirements for your trip.
YOUR TRAVEL PLANS ALWAYS TO HAND, ANYWHERE, ANYTIME - YOUR ESSENTIAL TRAVEL COMPANION
Our free Viewtrail App stores your essential travel information in one secure place, ensuring we are with you from start to finish.
View your travel plans on or offline, wherever and whenever you wish
Live flight notifications - real time information as you travel
Online check-in links and pre-tour notifications
Luggage allowance
Mapped places of interest - restaurants, shops, stations...plus route guidance back to your hotel
View e-vouchers and export them to your Apple wallet
Secure access to booking history, profile and insurance contact information
One touch emergency contact 365/24/7
Add to calendar function
Countdown to travel
Local time, weather, translator and exchange rate calculator
Sign up for our Email and be the first to hear about our Red Hot Offers and Travel Inspiration.
Our full range of 2020 brochures and the latest edition of the Trailfinder magazine are out now - get ahead of the rest and start planning your next escape.
If you can provide a few more details we can look at the best available options before we call you.