Hidden deep in the eastern Himalayas, the enchanting mountain kingdom of Bhutan has a unique appeal; what other country measures its well being in Gross National Happiness?
Add to this utopian outlook stunning natural landscapes, seductive architecture and incredible people and it's easy to see why people have called it a real life Shangri-La.
Bhutan has embraced the outside world but on terms that are designed to protect its heritage and culture and limit the number of tourists that come into the country.
Those visitors that do find their way to this magical place are rewarded with an unspoilt and genuinely authentic experience.

Order your brochure
OUR HOLIDAYS TO BHUTAN
Highlights Of Bhutan
8 days / 7 nights
from €2,306

Charming thimphu
Stunning scenery
Cultural heritage
Bhutan's dzongs
Taktsang (tiger's nest) monastery
Bhutan in Style
8 days / 7 nights
from €8,355

Stunning Aman accommodation throughout Bhutan
Exceptional, personalised Aman guiding in Bhutan
Large choice of optional activities
Hike up to Taktsang (Tiger's Nest) Monastery
WHERE TO GO IN BHUTAN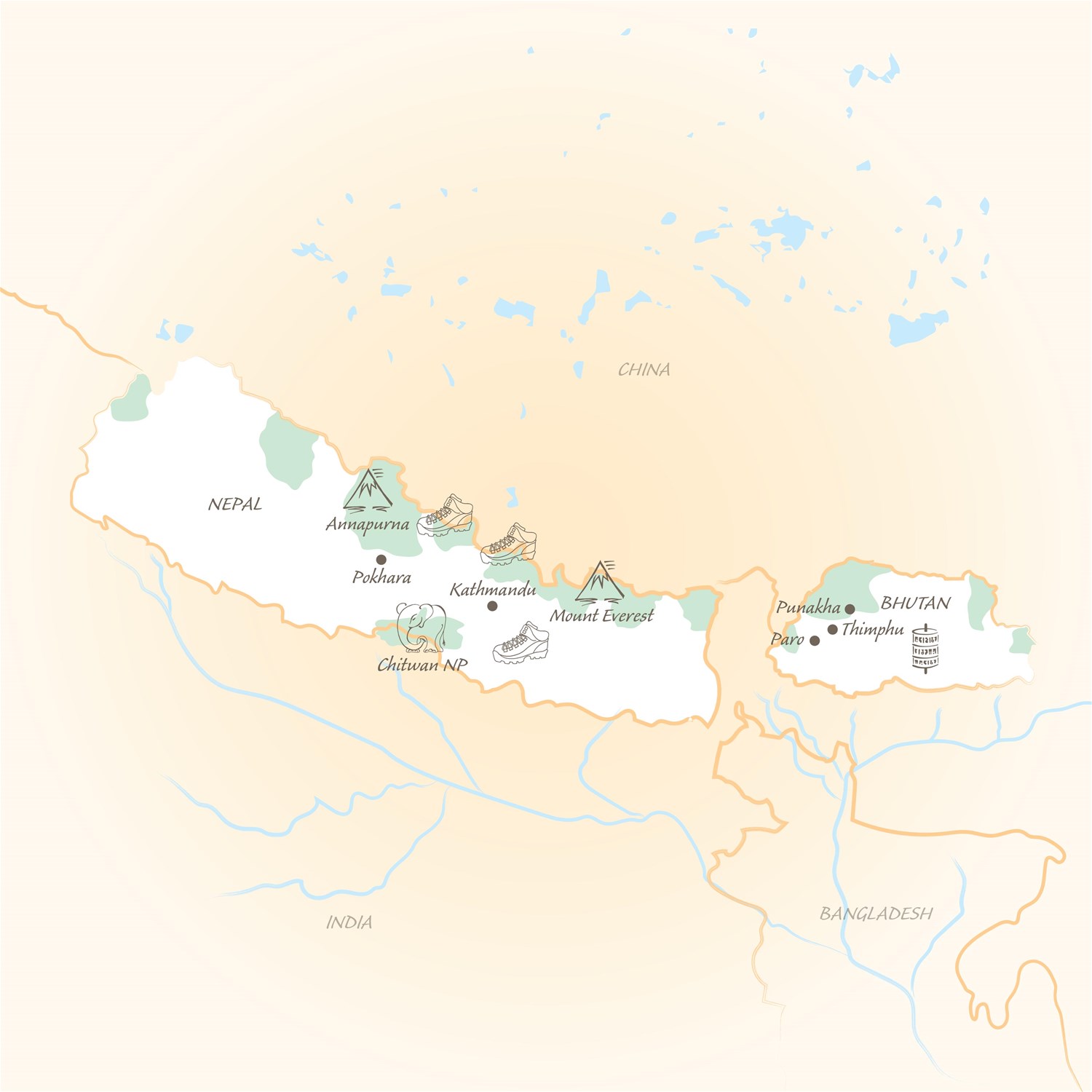 Thimphu
Bhutan's tiny capital city is where the country's ancient traditions meet the 21st Century in a fascinating blend of old and new. There is a growing buzz of commercialisation amidst the traditional Buddhist sights and Thimphu offers a surprisingly good choice of cafés, restaurants and nightlife that you won't find anywhere else in this remote mountain kingdom.

Punakha
Scenically located on the confluence of the Mo Chhu (Mother River) and Pho Chhu (Father River), Punakha served as Bhutan's capital for over 300 years. Magnificent Punakha Dzong, dating back to 1637, reflects Punakha's previous strategic importance. This imposing structure served as an important religious, administrative and social centre and is the country's most impressive dzong.

Paro
Home to the country's only international airport, Paro is most visitor's first experience of Bhutan and is a charming town to explore on foot. Bhutan's most iconic symbol, Taktsang (Tiger's Nest) Monastery, is also within easy reach. This sacred Buddhist temple complex, clinging to a cliff 900m above the valley floor is a magical must see on any Bhutanese itinerary and well worth the long climb!
OUR RECOMMENDED HOTELS IN BHUTAN
THINGS TO DO IN BHUTAN
Bhutanese cookery class
Approx 3 hours
from €88

Uncover the delights of Bhutanese cuisine
Taught by a renowned local chef
Bhutan

Fast Facts

flightaccess_time
Flight Time to Bhutan
Approx
hours
public
Visa Required?
€20 Off your visa service charge if you have booked your holiday with Trailfinders.
verified_user
Recommended Immunisations
Diphtheria/Tetanus/Polio booster
Cholera
Hepititis A (vaccine recommended)
Japanese Encephalitis
Malaria
Rabies
Typhoid
Yellow Fever

20% Discount off immunisations at our London Travel Clinic if you have booked your holiday with Trailfinders.
business_center
Trailfinders Travel Insurance
Enjoy comprehensive cover in Bhutan from just €69 for 7 days with our superb value Single Trip Travel Insurance.
Visa information given is given for Irish citizens holding a valid Irish passport with at least 6 months validity remaining. Immunisation guidelines assume routine Irish childhood immunisation has been given and will not apply to all situations. Medical advice should be sought. Your Trailfinders consultant will advise you of the specific visa and immunisation requirements for your trip.
YOUR TRAVEL PLANS ALWAYS TO HAND, ANYWHERE, ANYTIME - YOUR ESSENTIAL TRAVEL COMPANION
Our free Viewtrail App stores your essential travel information in one secure place, ensuring we are with you from start to finish.
View your travel plans on or offline, wherever and whenever you wish
Live flight notifications - real time information as you travel
Online check-in links and pre-tour notifications
Luggage allowance
Mapped places of interest - restaurants, shops, stations...plus route guidance back to your hotel
View e-vouchers and export them to your Apple wallet
Secure access to booking history, profile and insurance contact information
One touch emergency contact 365/24/7
Add to calendar function
Countdown to travel
Local time, weather, translator and exchange rate calculator
Sign up for our Email and be the first to hear about our Red Hot Offers and Travel Inspiration.
Our full range of 2020 brochures and the latest edition of the Trailfinder magazine are out now - get ahead of the rest and start planning your next escape.
If you can provide a few more details we can look at the best available options before we call you.