Holidays to Borneo promise incredible wildlife viewing, beautiful unspoilt beaches and a rich cultural heritage.
Borneo's rainforests have a biodiversity to rival the Amazon and, combined with the sheer density of animals and birds, puts it on a par with the Masai Mara and Serengeti for viewing wildlife. Orangutans are the star attraction but there is also an abundance of other wildlife for visitors to enjoy; Borneo gibbons, turtles, pygmy elephants, Sumatran rhino, proboscis monkeys and hundreds of species of extravagantly coloured birdlife.
The beaches of Borneo are just magnificent, tranquil stretches of golden sands often backed by lush tropical vegetation and offering superb snorkelling opportunities. They are a great addition to any Borneo holiday or a perfect choice for a holiday in their own right.
Trailfinders helps thousands of people a year plan their holidays to Borneo. Our experienced, well-travelled consultants will help you choose how you'd like to get around, where you'd like to stay and how you'd like to experience the attractions and then put it all together for you seamlessly.

Order your brochure
WHERE TO GO IN BORNEO
Borneo boasts a rich treasure trove of parks and reserves, each with its own particular attractions. Sepilok is famous for its Orangutans, Tabin its pygmy elephants and the Kinabatangan River its proboscis monkeys but each also hosts an astonishing variety of bird and wildlife besides. Your Trailfinders consultant will help you choose which to visit.
It's not all just about the wildlife though. Kuching and Kota Kinabalu are fascinating cities with colourful histories and well worth a day or two's exploration. Mount Kinabalu National Park offers a host of scenic walking trails and the chance to scale Malaysia's highest peak. For a real taste of the unusual, venture deep into Borneo's interior to see the Iban people; Sarawak's largest ethnic tribe, once renowned as head hunters!
Take a look at our destination guide below to discover further or give us a call if you are looking for some inspiration.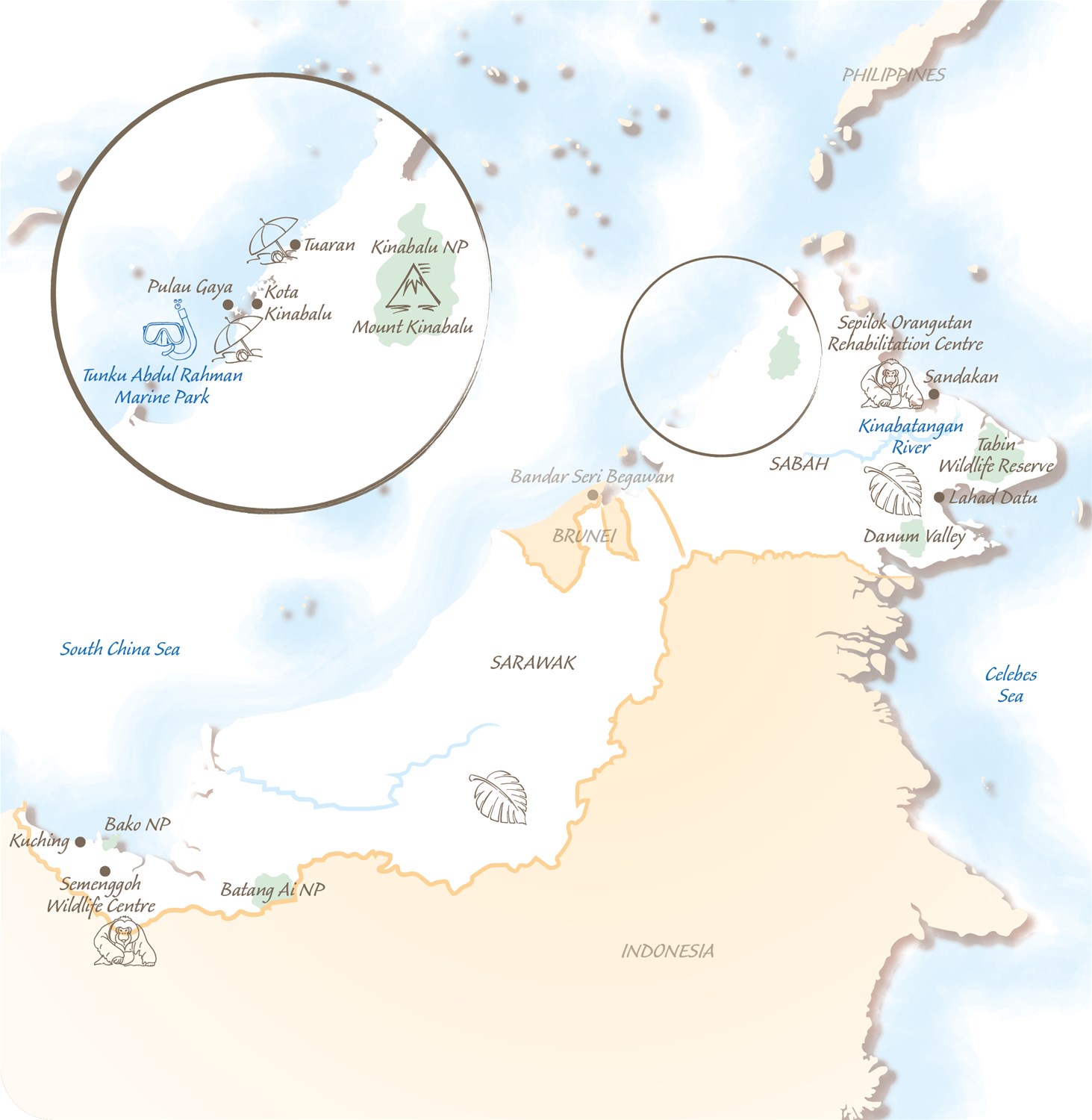 Kota Kinabalu, Sabah
Kota Kinabalu, or 'KK' as it is often called, is the capital of the state of Sabah. Acting as the gateway to Borneo's beach resorts, it also has a thriving night market and a seemingly endless choice of restaurants. Water lovers should head to the azure waters that surround the islands of the Tunku Abdul Rahman Marine Park, just off KK's coast.

Kinabalu National Park, Sabah
With its stunning landscapes, scenic walking trails and exotic tropical gardens, Kinabalu National Park offers a host of natural attractions. Keep your eyes peeled for the Rafflesia, the world's largest flower. It is also the jumping off point for climbers of Mount Kinabulu, the imposing mountain from which the park takes its name

Sandakan, Sabah
Sabah's second city is home to a bustling harbour, a handful of WWII historical sites and haunting cemeteries. It is best known as the main access point for trips to Sepilok Orangutan Rehabilitation Centre, one of only four orangutan sanctuaries in the world, which offers the chance to get up close to these amazing creatures in their native habitat.

Kinabatangan River, Sabah
Sabah's longest river is one of the best places to experience Borneo's incredible wildlife. Boasting one of the highest concentrations of wildlife in the region, the waterways of the Kinabatangan River basin offer fabulous viewing opportunities of primates and birdlife, including proboscis monkeys and endangered pygmy elephants.

Tabin Wildlife Reserve, Sabah
Covering over 300,000 acres of lowland rainforest in Eastern Sabah, Tabin Wildlife Reserve is home to the endangered Sumatran rhino, pygmy elephants, 9 species of primates and over 220 types of birds. A popular activity is to visit Tabin's mineral rich mud volcano and afterwards cool off in a refreshing pool at the foot of a beautiful waterfall.

Danum Valley, Sabah
Located in the southeast of Sabah, the remote and off the beaten track Danum Valley is recognised as one of the world's most complex eco-systems. The valley is also home to many endangered species, including the clouded leopard and Sumatran rhino. Visitors can soak up the beauty of this pristine rainforest by exploring the many jungle trails with experienced naturalists.

Kuching, Sarawak
Situated on the banks of the Sarawak River, the state's capital was formerly the seat of power of the famed 'White Rajahs' who founded and ruled the Kingdom of Sarawak until 1946. Today this charming city combines beautiful colonial buildings, colourful Chinese shophouses and a lovely waterfront and is an ideal base from which to explore the surrounding area.

Batang Ai National Park, Sarawak
110 miles southeast of Kuching, this remote national park is home to a variety of wildlife including hornbills, orangutans and gibbons. Wildlife aside, most visitors come here to encounter the fascinating indigenous tribes – having the opportunity to meet the Iban people in one of their traditional longhouses is a highlight for many.

Bako National Park, Sarawak
The oldest of Sarawak's national parks, and just over 20 miles from Kuching, few places pack so much wildlife into such a small space as Bako National Park. With its rainforest, waterfalls and dramatic coastline, this is one of the best places in Sarawak to observe the fabulous proboscis monkeys, silvered langurs and bearded pigs.
OUR RECOMMENDED HOTELS IN BORNEO
We feature a great range of accommodation in Borneo, with something to suit all budgets.
What you won't find here are thousands upon thousands of Borneo hotels where you have to wade through endless reviews of questionable origin to find the best one. We have done the hard work for you and selected the best places to stay so you don't have to. Our travel consultants are on hand to help, often with first-hand experience.
When is the best time to visit Borneo?
Borneo

Fast Facts

flightaccess_time
Flight Time to Borneo
Approx
hours
public
Visa Required?
€20 Off your visa service charge if you have booked your holiday with Trailfinders.
verified_user
Recommended Immunisations
None
20% Discount off immunisations at our London Travel Clinic if you have booked your holiday with Trailfinders.
business_center
Trailfinders Travel Insurance
Enjoy comprehensive cover in Borneo from just €69 for 7 days with our superb value Single Trip Travel Insurance.
Visa information given is given for Irish citizens holding a valid Irish passport with at least 6 months validity remaining. Immunisation guidelines assume routine Irish childhood immunisation has been given and will not apply to all situations. Medical advice should be sought. Your Trailfinders consultant will advise you of the specific visa and immunisation requirements for your trip.
YOUR TRAVEL PLANS ALWAYS TO HAND, ANYWHERE, ANYTIME - YOUR ESSENTIAL TRAVEL COMPANION
Our free Viewtrail App stores your essential travel information in one secure place, ensuring we are with you from start to finish.
View your travel plans on or offline, wherever and whenever you wish
Live flight notifications - real time information as you travel
Online check-in links and pre-tour notifications
Luggage allowance
Mapped places of interest - restaurants, shops, stations...plus route guidance back to your hotel
View e-vouchers and export them to your Apple wallet
Secure access to booking history, profile and insurance contact information
One touch emergency contact 365/24/7
Add to calendar function
Countdown to travel
Local time, weather, translator and exchange rate calculator
Sign up for our Email and be the first to hear about our Red Hot Offers and Travel Inspiration.
Our full range of 2020 brochures and the latest edition of the Trailfinder magazine are out now - get ahead of the rest and start planning your next escape.
If you can provide a few more details we can look at the best available options before we call you.