Holidays to China promise history, culture, scenic grandeur and unique wildlife spectacles that will long stay in your memory.
China's history stretches back thousands of years and ancient treasures abound all over the country. Undoubted stars of the show are Beijing, boasting the Forbidden City, Summer Palace and Great Wall of China, and Xian's vast Terracotta Army. However, you may be just as impressed by the less famous sites like Suzhou, the 'Venice of the East' and the impressive walled city of Pingyao.
Nature is no shrinking wallflower in China either. Sail along the magnificent Yangtze past ancient imperial cities and through the spectacular Three Gorges, explore the ethereal karst landscape around Guilin or escape to the west for Yunnan's magnificent mountains, ancient towns and the majestic Tiger Leaping Gorge.
Trailfinders helps thousands of people plan their holidays to China every year and we have a dedicated team of destination specialists who are mines of information about the country, often with first-hand experience of travel here. Whether you want to explore the country with your own private driver or on a sociable tour, or simply want some advice on the best places to go – they are the perfect people to ask.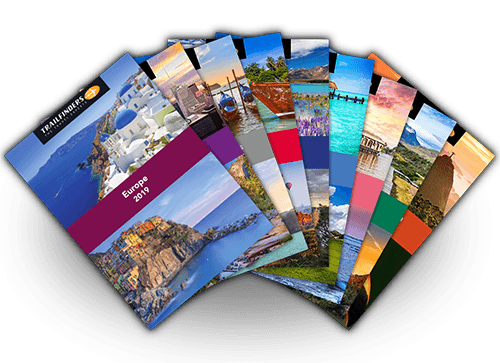 Order your brochure
WHERE TO GO IN CHINA
China is a vast country covering five time zones and each region boasts its own unique landscape and culture.
You could cover the highlights of Beijing, Xian and Shanghai in just over a week which would be a wonderful introduction to the country. Give yourself two weeks though and you could also take in the scenic delights of Yunnan and Guilin and perhaps include a fabulous Yangtze cruise, a trip to see Chengdu's pandas or the water towns of Hangzhou and Suzhou.
Take a look at the guide below to discover further or give us a call if you are looking for some inspiration.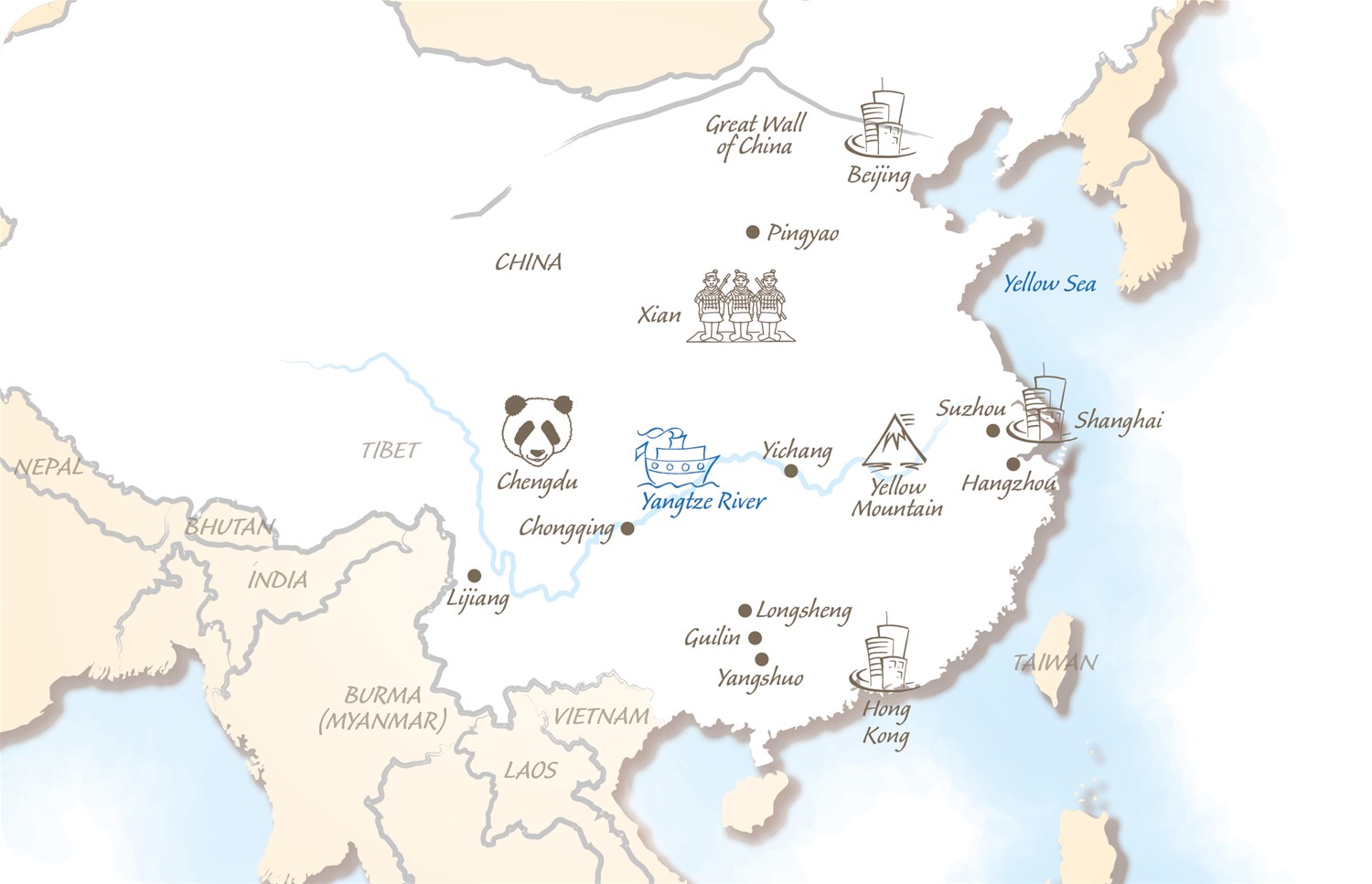 Beijing
Beijing is the fascinating capital of China. It holds many of the country's must-see sights, such as the Forbidden City, Tiananmen Square, the Summer Palace and the Temple of Heaven. It is also still possible to take a tour around the diminishing hutongs to experience the old way of life.
The Great Wall of China
A trip to the iconic Great Wall will undoubtedly be an awe-inspiring experience. There are a number of visitor sites which can be reached from Beijing; Badaling is by far the most popular while the well-preserved section at Mutianyu allows you to get away from the crowds. Further afield, Jinshanling is a more challenging section but offers fantastic views.
Xian
Xian was once an exuberant city buzzing with poets, monks and warriors of various religions and cultures and the starting point of the Silk Road. Today, Xian is a modern city surrounded by the old city walls. A visit here is not complete without seeing the iconic Terracotta Warriors!
Chengdu
Chengdu's main draw is a visit to the Giant Panda Breeding & Research Centre to learn about these endangered animals. However, the city itself offers many more attractions with important shrines, interesting teahouses and the famously spicy Sichuan cuisine.
Shanghai
The gateway city to the Yangtze River, Shanghai is unlike any other city in China. A modern city with towering skyscrapers, a vibrant nightlife and vast shopping malls, yet tucked amongst the plethora of gleaming shopping malls is Old Shanghai. Be sure to immerse yourself in the historical charms of The Bund, lined with beautiful Art Deco buildings.
Yangshuo
Access to Yangshuo is generally via a scenic boat trip along the winding Li River from the city of Guilin. A popular tourist destination, it is a quaint and beautiful town to wander around with plenty of shops and restaurants. However, its allure is in the beauty of the surrounding countryside with its dramatic karst landscapes.
Yangtze River
The Yangtze is the longest river in Asia and the third longest in the world! A slow-paced and scenic cruise along the Yangtze River is a popular inclusion in most itineraries and includes a fascinating trip to the Three Gorges Dam site to learn about this spectacular hydroelectric facility.

The Dragon's Backbone Rice Terraces
Also called the Longji rice terraces and located in Longsheng County, these dazzling rice terraces are a stark contrast to other areas of the country. Surrounded by many small villages, the waterlogged terraces carved into the hillsides by the Zhuang people are said to look like the scales of a dragon.
Lijiang
A UNESCO World Heritage Site since 1997, Lijiang, with its picturesque snow-capped mountain backdrop is home to bustling cobblestone streets and colourful markets. Allow yourself to get lost in the maze-like streets or take a cable car ride up Jade Dragon Snow Mountain for spectacular glacier views.
Zhangjiajie
Located in central China, the UNESCO protected park Zhangjiajie is famous for its magical scenery of pillar-like jagged peaks rising up from dense forest which inspired the movie Avatar. Not for the faint-hearted, there is a mix of cable cars, glass elevators and glass walkways to view the incredible vistas along with scenic mountain trails and walks through the canyon.
HOW TO GET AROUND CHINA
Exploring China with your own private car and driver is extremely popular. You can simply follow one of our classic itineraries or our specialist China team can put something tailormade together for you including flights and rail journeys.
Small group touring is also a sociable way to explore the country and we also can help you with luxury escorted group journeys too, great choices if you are travelling solo. There are some wonderful boats sailing the waters of the Yangtze River and it's also worth considering an ocean going cruise to give you a taste of Beijing, Shanghai and Hong Kong.
Lastly don't forget China as a stopover option. Beijing, Shanghai and Hong Kong are easily included in a flight to Australia or New Zealand.
OUR RECOMMENDED HOTELS IN CHINA
We feature a wonderful range of accommodation in China, with something to suit all budgets.
Maybe you're looking for an authentic courtyard hotel in one of Beijing's historic neighbourhoods or a luxurious landmark property in the heart of Shanghai's Bund. Or perhaps it's a scenic lodge with the best views of the Longshen Rice Terraces or a chic retreat on the banks of the Li River in Yangshuo. We can help you with hotels, guesthouses and lodges all over the country.
THINGS TO DO IN CHINA
As well as some incredible sights, China is also home to some wonderful experiences that will really help you get under the skin of the country.
One day you might be joining a cookery class in Yangshuo, the next enjoying a traditional acrobatic show in Shanghai. We can help you with walking tours of Beijing's Hutongs, cycling tours of Shanghai, river cruises, authentic dining and classical entertainment.
Our collection of unmissable experiences will really help bring your holiday in China alive.
When is the best time to visit China?
China

Fast Facts

flightaccess_time
Flight Time to China
Approx
10-12 hours
public
Visa Required?
Yes
€20 Off your visa service charge if you have booked your holiday with Trailfinders.
verified_user
Recommended Immunisations
Diphtheria/Tetanus/Polio booster
Cholera
Hepititis A (vaccine recommended)
Japanese Encephalitis
Malaria
Rabies
Tick Borne Encephalitis
Typhoid
Yellow Fever

20% Discount off immunisations at our London Travel Clinic if you have booked your holiday with Trailfinders.
business_center
Trailfinders Travel Insurance
Enjoy comprehensive cover in China from just €69 for 7 days with our superb value Single Trip Travel Insurance.
Visa information given is given for Irish citizens holding a valid Irish passport with at least 6 months validity remaining. Immunisation guidelines assume routine Irish childhood immunisation has been given and will not apply to all situations. Medical advice should be sought. Your Trailfinders consultant will advise you of the specific visa and immunisation requirements for your trip.
YOUR TRAVEL PLANS ALWAYS TO HAND, ANYWHERE, ANYTIME - YOUR ESSENTIAL TRAVEL COMPANION
Our free Viewtrail App stores your essential travel information in one secure place, ensuring we are with you from start to finish.
View your travel plans on or offline, wherever and whenever you wish
Live flight notifications - real time information as you travel
Online check-in links and pre-tour notifications
Luggage allowance
Mapped places of interest - restaurants, shops, stations...plus route guidance back to your hotel
View e-vouchers and export them to your Apple wallet
Secure access to booking history, profile and insurance contact information
One touch emergency contact 365/24/7
Add to calendar function
Countdown to travel
Local time, weather, translator and exchange rate calculator
Sign up for our Email and be the first to hear about our Red Hot Offers and Travel Inspiration.
Our full range of 2020 brochures and the latest edition of the Trailfinder magazine are out now - get ahead of the rest and start planning your next escape.
If you can provide a few more details we can look at the best available options before we call you.