Culturally unique, scenically beautiful and boasting a fascinating mix of ancient and modern – there's nothing quite like a holiday to Japan.
Japan's cities are a study in captivating contrasts where dazzling neon streets and the latest technological innovation sit side by side with imposing castles, elaborate temples and serene traditional gardens.
Away from the cities, a stunning landscape of mountains, lakes and valleys awaits from the dramatic volcanic peaks of Hokaido in the north to the sugar white beaches and aquamarine seas of the Okinawa archipelago in the far south.
Treasured ancient traditions like the graceful geisha, sumo rituals and the art of the tea ceremony still hold their place in Japanese life. A stay at a Ryokan, a traditional inn, is a must, providing a great opportunity to meet the locals and a wonderful way to connect with this unique heritage.
Trailfinders is the UK's No.1 to Japan and we have a dedicated team of Japan specialists who are senior professionals with a passion for this fascinating country. With their knowledge of the destination they will help you create a tailormade self-guided holiday, escorted tour, stopover or even a cruise holiday.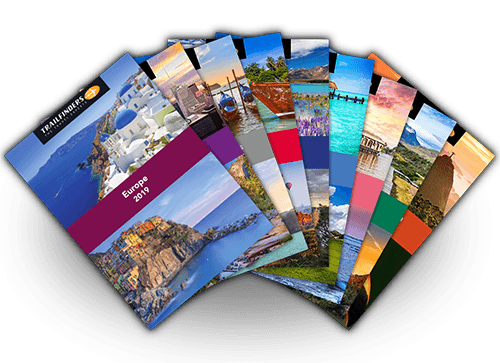 Order your brochure
WHERE TO GO IN JAPAN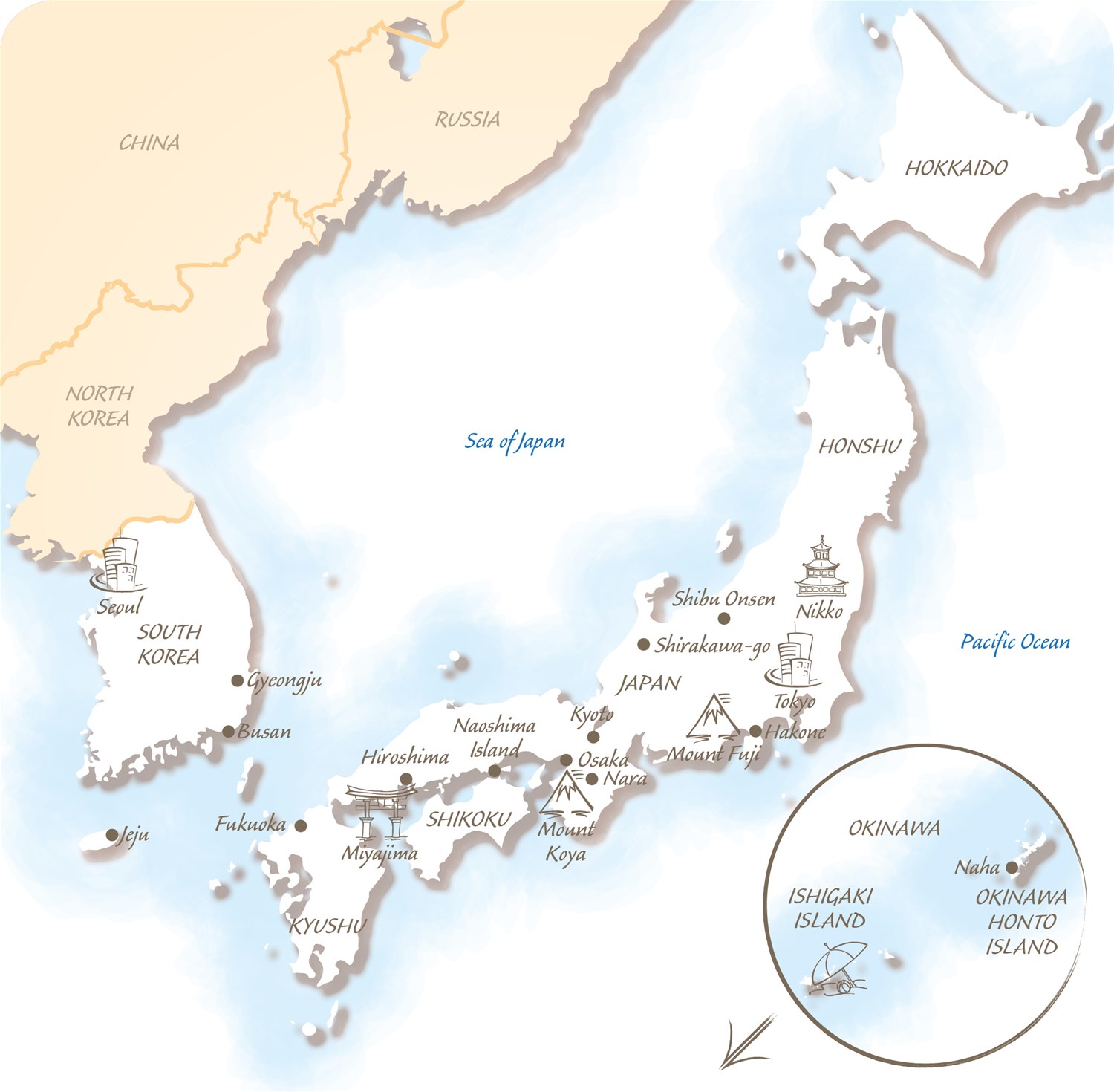 Tokyo
Japan's capital is a city of contrasts with its old historic streets and geisha district of Asakusa, the sleek shops of Ginza and the edgy fashion centres of Shibuya and Harajuku. As one of the world's most exciting and vibrant cities, it seems ready to blast into the future at times, but also continues to treasure its very considerable history and culture.

Snow Monkeys
Tourists flock to Shibu Onsen to see Japan's 'snow monkeys'. These characterful macaques live in the hills around the natural hot springs and their amusing antics in the warm waters can be observed at close quarters. It is possible to see the snow monkeys year round, though they are particularly photogenic when the area has a dusting of snow (Nov - Mar).

Hakone
Located in Fuji Hakone National Park, Hakone is the gateway to Mount Fuji. Notoriously elusive, Japan's most famous mountain is often hidden by cloud; but for those not lucky enough to catch a glimpse, Hakone still has plenty to offer. Aside from spectacular scenery, volcanically active Hakone is famous for its onsen (hot spring baths) and a night in a ryokan is a must.

Takayama
Situated in the Japanese Alps, Takayama's traditional architecture, hillside shrines and sake breweries are all reasons to visit this charming town. The quality of Takayama's craftsmen were widely renowned and this is reflected today in the old town, where the narrow streets are still lined with beautifully preserved inns, tea houses and shops, many dating back to the Edo period.

Kyoto
Japan's cultural capital offers 1,600 Buddhist temples, 400 Shinto shrines, countless tea houses and extensive beautiful gardens; a remarkable historical collection that includes 17 UNESCO World Heritage Sites. Kyoto is also a modern city, with plenty of concrete, steel and neon lights alongside enchanting, timeless scenes – if you are lucky you may even catch a glimpse of a geisha disappearing down a Gion side street.

Hiroshima
Despite the devastation of the atomic bomb, Hiroshima has blossomed into a modern vibrant city. Along with the poignant Peace Memorial Museum and Park, reminders of that notorious August day in 1945 are all around, but the optimism of the city's inhabitants shines through. The sacred island of Miyajima just across the water is famed for its 1,400 year old floating torii (gate) and mountainous interior.

Okinawa
The islands of Japan's southwestern prefecture stretch for over 400 miles and are geographically closer to Taiwan than Japan. With its subtropical climate and laidback, rural lifestyle, Ishigaki Island is a popular getaway for those wishing to escape the hustle and bustle of Japan's cities. This beautiful island and its surrounding coral reef offers beaches, snorkelling, diving and relaxation.

Kiso Valley
One of Honshu's most scenic regions, the Kiso Valley formed part of an ancient trade route and sections of the 17th Century Nakasendo Highway are now a popular hiking trail. Aside from enjoying the picturesque scenery en route, the beautifully preserved post towns of Tsumago and Magome have an incredible sense of history – you can almost imagine you are a travelling samurai back in the Edo period!

Kyushu
The southernmost of Japan's four main islands, Kyushu is an island of spectacular natural beauty combined with vibrant cities. Highlights include the modern 'foodie' city of Fukuoka and Nagasaki with its rich, and at times, tragic history. Clouds of steam emitting from the many onsen streak the skyline and the smell of sulphur permeates the air of Beppu, Kyushu's hot spring capital.
OUR RECOMMENDED HOTELS IN JAPAN
When is the best time to visit Japan?
Flights
Trailfinders - The Original Discount Flight Specialist
Japan

Fast Facts

flightaccess_time
Flight Time to Japan
Approx
12 hours
public
Visa Required?
For stays over 90 days only
€20 Off your visa service charge if you have booked your holiday with Trailfinders.
verified_user
Recommended Immunisations
Diphtheria/Tetanus/Polio booster
Japanese Encephalitis
Tick Borne Encephalitis

20% Discount off immunisations at our London Travel Clinic if you have booked your holiday with Trailfinders.
business_center
Trailfinders Travel Insurance
Enjoy comprehensive cover in Japan from just €69 for 7 days with our superb value Single Trip Travel Insurance.
Visa information given is given for Irish citizens holding a valid Irish passport with at least 6 months validity remaining. Immunisation guidelines assume routine Irish childhood immunisation has been given and will not apply to all situations. Medical advice should be sought. Your Trailfinders consultant will advise you of the specific visa and immunisation requirements for your trip.
YOUR TRAVEL PLANS ALWAYS TO HAND, ANYWHERE, ANYTIME - YOUR ESSENTIAL TRAVEL COMPANION
Our free Viewtrail App stores your essential travel information in one secure place, ensuring we are with you from start to finish.
View your travel plans on or offline, wherever and whenever you wish
Live flight notifications - real time information as you travel
Online check-in links and pre-tour notifications
Luggage allowance
Mapped places of interest - restaurants, shops, stations...plus route guidance back to your hotel
View e-vouchers and export them to your Apple wallet
Secure access to booking history, profile and insurance contact information
One touch emergency contact 365/24/7
Add to calendar function
Countdown to travel
Local time, weather, translator and exchange rate calculator
Sign up for our Email and be the first to hear about our Red Hot Offers and Travel Inspiration.
Our full range of 2020 brochures and the latest edition of the Trailfinder magazine are out now - get ahead of the rest and start planning your next escape.
If you can provide a few more details we can look at the best available options before we call you.