It's a long time since Ghengis Khan put Mongolia at the centre of the world map.
Nowadays there are certainly no hordes and the invaders are more likely to slip over the border by train than on horseback. Those that do though discover a country of startling beauty with a culture not much changed since the time of the Great Khan himself.
Most visitors to Mongolia travel into the country on the Trans Mongolian railway. Connecting with the famous Trans Siberian just south of Lake Baikal the train rolls across the Mongolian Steppe into Ulaanbataar. It's usually possible to hop off for a few days to explore the capital and travel out into the countryside to enjoy a night in a yurt and meet the local people before travelling out across the Gobi Desert into China. This is a great introduction to the country for those looking for a taste of Mongolian life and you can choose a number of different styles from the bare bones guiding of the Vodkatrain to the opulent luxury of the Golden Eagle.
If you're flexible on when you can travel, be sure to try and catch the Naadam festival, three days of parades, marches and intense competition where the local champions compete for mastery in horse racing, wrestling and archery in front of packed stadiums. With food, music and crafts to enjoy away from the competition it's a wonderful time to visit the country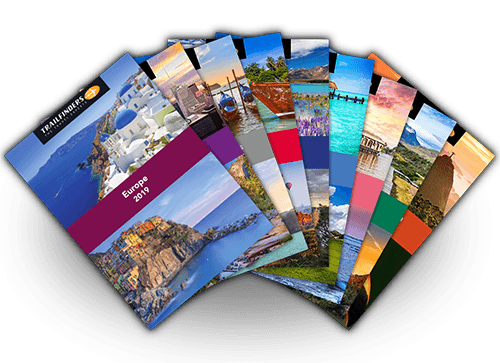 Order your brochure
Mongolia

Fast Facts

flightaccess_time
Flight Time to Mongolia
Approx
11.5 hours
public
Visa Required?
€20 Off your visa service charge if you have booked your holiday with Trailfinders.
verified_user
Recommended Immunisations
Diphtheria/Tetanus/Polio booster
Hepititis A (vaccine recommended)
Rabies
Tick Borne Encephalitis
Typhoid

20% Discount off immunisations at our London Travel Clinic if you have booked your holiday with Trailfinders.
business_center
Trailfinders Travel Insurance
Enjoy comprehensive cover in Mongolia from just €69 for 7 days with our superb value Single Trip Travel Insurance.
Visa information given is given for Irish citizens holding a valid Irish passport with at least 6 months validity remaining. Immunisation guidelines assume routine Irish childhood immunisation has been given and will not apply to all situations. Medical advice should be sought. Your Trailfinders consultant will advise you of the specific visa and immunisation requirements for your trip.
YOUR TRAVEL PLANS ALWAYS TO HAND, ANYWHERE, ANYTIME - YOUR ESSENTIAL TRAVEL COMPANION
Our free Viewtrail App stores your essential travel information in one secure place, ensuring we are with you from start to finish.
View your travel plans on or offline, wherever and whenever you wish
Live flight notifications - real time information as you travel
Online check-in links and pre-tour notifications
Luggage allowance
Mapped places of interest - restaurants, shops, stations...plus route guidance back to your hotel
View e-vouchers and export them to your Apple wallet
Secure access to booking history, profile and insurance contact information
One touch emergency contact 365/24/7
Add to calendar function
Countdown to travel
Local time, weather, translator and exchange rate calculator
Sign up for our Email and be the first to hear about our Red Hot Offers and Travel Inspiration.
Our full range of 2020 brochures and the latest edition of the Trailfinder magazine are out now - get ahead of the rest and start planning your next escape.
If you can provide a few more details we can look at the best available options before we call you.