Vibrant, awe inspiring and incredibly diverse, Argentina bursts with life. From the colourful streets of Buenos Aires, the remote wilderness of Patagonia, to world class wineries - Argentina has the lot.
Argentina's cosmopolitan capital city, Buenos Aires, boasts grand avenues, a thriving café culture and sophisticated restaurants. Explore the many distinct neighbourhoods, such as trendy Palermo, the thriving La Boca complete with impromptu tango performances or the opulent Recoleta to name a few.
"Poor old Niagara," Eleanor Roosevelt commented when she first beheld the Iguazu Falls and once you've experienced the thunderous power of the 275 falls that throw a curtain of mist up 150 metres into the air you may well agree.
Sip world famous Malbecs in the sun drenched vineyards around Mendoza, marvel at the deep blue lakes of Bariloche or explore the stark desert landscapes around Purmamarca, in Northern Argentina.
To the south lies the vast wilderness of Patagonia, with the colossal Perito Moreno Glacier, remote lodges and traditional estancias as well as fantastic trekking opportunities amongst the forests, lakes & glaciers.
Right on the southern tip of the continent lies Ushuaia, the gateway to the wild and undiscovered Tierra del Fuego National Park and port of embarkation for expedition cruises to the Antarctic.
Combining natural splendour and outdoor adventure with passionate people and vibrant cities, few destinations can rival the diversity of experiences on offer in Argentina. Let Trailfinders plan your perfect Argentina adventure today.

Order your brochure
OUR HOLIDAYS TO ARGENTINA
WHERE TO GO IN ARGENTINA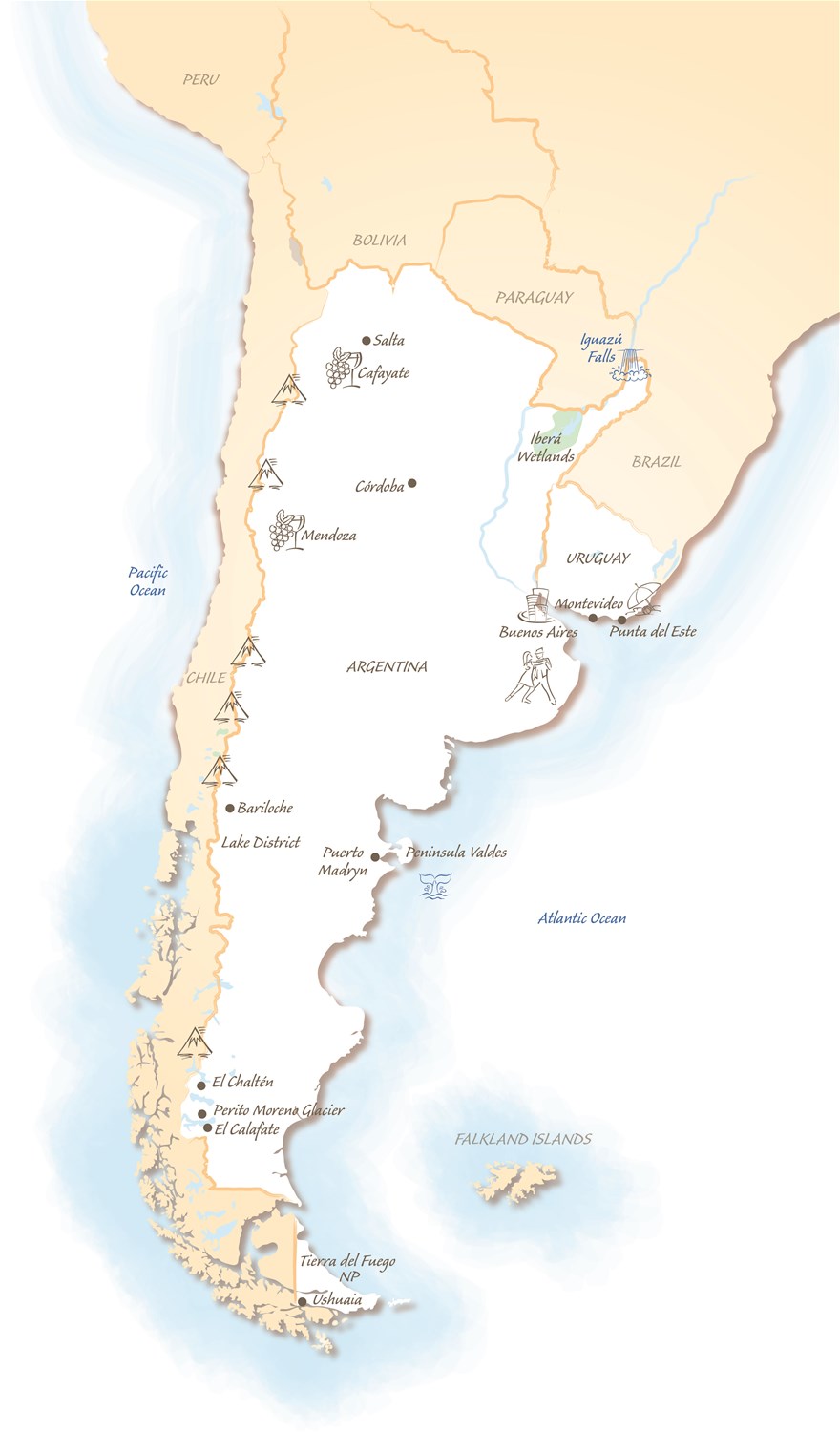 Buenos Aires
Full of energy, style and sophistication Buenos Aires is undoubtedly one of the great cities of the world. Comprised of 38 eclectic barrios (neighbourhoods) this diverse city offers stunning architecture, historical sites, dramatic tango dancing and fantastic dining. Spend a few days in Argentina's capital and get under the skin of this buzzing cosmopolitan metropolis.

Iguazú Falls
One of South Americas most awe-inspiring sights, Iguazú Falls are a must see! Iguazú roughly translated means 'Big Water' which appropriately describes the 275 waterfalls that form a border between Argentina and Brazil in an epic rainforest setting. Explore the many walkways and viewing platforms within the national park. Prepare to be amazed by the sheer power and beauty of these falls.

Iberá Wetlands
The Iberá Wetlands (Esteros del Iberá) are the second-largest wetlands in the world and are home to a wide variety of wildlife including caiman, capybara and a large number of birds. Relatively unknown, this is one of the most remarkable ecosystems in Argentina. This huge expanse of wetland is made up of a series of lakes, lagoons and marshland and is a must-visit for nature lovers.

Mendoza
Set against the stunning snow-capped peaks of the Andes, the Mendoza province is Argentina's premier wine-producing region. The pleasant city of Mendoza boasts leafy plazas and charming cafes whilst the cobbled streets of nearby Chacras de Coria offer a delightful alternative. There are over 1,500 wineries nestled in picturesque scenery which can be visited as part of a day trip or as an overnight stay.

Salta & The Northwest
North West Argentina offers a variety of landscapes ranging from impressive salt flats to rugged canyons. The city of Salta has the nickname La Linda (the beautiful) as it contains some of the country's best preserved colonial architecture and is surrounded by striking scenery. Nearby Cafayate boasts impressive wineries whilst the sleepy village Purmamarca sits in the shadow of the Hill of Seven Colours.

Lake District
Argentina's Lake District is a picturesque region where blue lakes are bordered by forested mountains which turn from green in the summer to beautiful reds and oranges in autumn and to snow-capped white in winter. The alpine town of Bariloche has a gorgeous setting on the edge of Lake Nahuel Haupi and a number of outdoor activities are available here including treks in the national park and boat trips on the lakes.

El Calafate & El Chalten
El Calafate is the gateway to Los Glaciares National Park and the stunning Perito Moreno Glacier, one of Argentina's most impressive natural wonders. View this colossal wall of ice by cruising on the lake to the glacier face or on observation walkways; it is very likely you will see huge chunks of ice break off and crash into the lake below! The nearby town of El Chalten is an outdoor enthusiasts dream and the base for some fantastic treks.

Peninsula Valdés
This windswept peninsula offers fantastic wildlife viewing and has been designated a UNESCO World Heritage Site. Southern right whales can often be seen in the bay between June and December, orcas and penguins may be spotted between September and April whilst seals, sea lions and a number of birds can be seen year round. Choose to stay on the peninsula or in the nearby town of Puerto Madryn.
Ushuaia
The Southernmost tip of South America, nicknamed the 'End of the World', Ushuaia is not only the gateway to Antarctica, but also a fantastic place for adventurers in it's own right. Explore the rugged landscapes of nearby Tierra del Fuego National Park and Lapataia National Park or sail out onto the Beagle Channel to spot the local wildlife.
The Pampas
The Pampas, widely known for being the home of the Gaucho are flat and fertile plains that stretch from Buenos Aires all the way to Cordoba. Many traditional estancias are scattered across the countryside, offering an authentic experience and a taste of the 'true Argentina.'
HOW TO GET AROUND ARGENTINA
OUR RECOMMENDED HOTELS IN ARGENTINA
THINGS TO DO IN ARGENTINA
When is the best time to visit Argentina?
Top Tips From Our Experts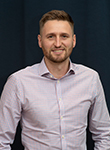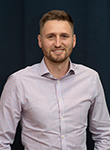 Michael Hoverd
A boat ride to the base of the Iguassu Falls is the best way to get a feel for their size and power - just remember to bring a towel!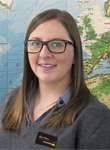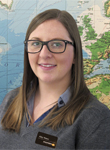 Abby Waters
Head down to Ushuaia on a domestic flight from Buenos Aires and you will get the most spectacular views over emerald blue lakes and mountain peaks right from your seat.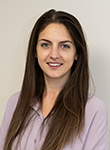 Hannah Wardle
Mendoza is a highlight of any Argentina holiday. What better way to see a country than cycling around visiting a mix of iconic and more boutique vineyards and olive farms with several tastings on route.
Argentina

Fast Facts

flightaccess_time
Flight Time to Argentina
Approx
13¾ hours
public
Visa Required?
For stays over 90 days only
€20 Off your visa service charge if you have booked your holiday with Trailfinders.
verified_user
Recommended Immunisations
Diphtheria/Tetanus/Polio booster
Hepititis A (vaccine recommended)
Rabies
Typhoid
Yellow Fever

20% Discount off immunisations at our London Travel Clinic if you have booked your holiday with Trailfinders.
business_center
Trailfinders Travel Insurance
Enjoy comprehensive cover in Argentina from just €69 for 7 days with our superb value Single Trip Travel Insurance.
Visa information given is given for Irish citizens holding a valid Irish passport with at least 6 months validity remaining. Immunisation guidelines assume routine Irish childhood immunisation has been given and will not apply to all situations. Medical advice should be sought. Your Trailfinders consultant will advise you of the specific visa and immunisation requirements for your trip.
YOUR TRAVEL PLANS ALWAYS TO HAND, ANYWHERE, ANYTIME - YOUR ESSENTIAL TRAVEL COMPANION
Our free Viewtrail App stores your essential travel information in one secure place, ensuring we are with you from start to finish.
View your travel plans on or offline, wherever and whenever you wish
Live flight notifications - real time information as you travel
Online check-in links and pre-tour notifications
Luggage allowance
Mapped places of interest - restaurants, shops, stations...plus route guidance back to your hotel
View e-vouchers and export them to your Apple wallet
Secure access to booking history, profile and insurance contact information
One touch emergency contact 365/24/7
Add to calendar function
Countdown to travel
Local time, weather, translator and exchange rate calculator
Sign up for our Email and be the first to hear about our Red Hot Offers and Travel Inspiration.
Our full range of 2020 brochures and the latest edition of the Trailfinder magazine are out now - get ahead of the rest and start planning your next escape.
If you can provide a few more details we can look at the best available options before we call you.