Patagonia is well known to be one of the world's most pristine wilderness settings and for many people is one of the main draws to visit South America. This wild and spectacular landscape intersecting southern Chile & Argentina boasts mighty mountains, vast glaciers and mile upon mile of awe inspiring walking trails and stunning views.
In Chilean Patagonia, the largely untouched Aysén Region offers sparkling lakes and incredible marble caves, while the iconic Torres Del Paine National Park in the south of the country boasts huge mountains, striking glaciers and rugged landscapes. The remote wilderness of the Patagonian channels and Tierra Del Fuego, which is shared by Argentina and Chile is ideal for those seeking ultimate seclusion.
In Argentine Patagonia, the well known El Calafate is the gateway to Los Glaciers National Park, home of the huge Perito Moreno Glacier which is a must do for many visitors to Patagonia. The small mountain town of El Chalten lies a few hours drive from El Calafate and is an outdoor enthusiasts dream and the base for many fantastic treks.
Spend your days in Patagonia hiking past towering mountain peaks, gazing in awe at the colossal glaciers, horseriding through untouched wilderness or simply relaxing in a spa overlooking the snowy mountain peaks and dining on delicious cuisine. Trailfinders travel consultants are expertly trained and can help plan your perfect Patagonia adventure, whether you want to visit one country or combine the two.

Order your brochure
OUR HOLIDAYS TO PATAGONIA
WHERE TO GO IN PATAGONIA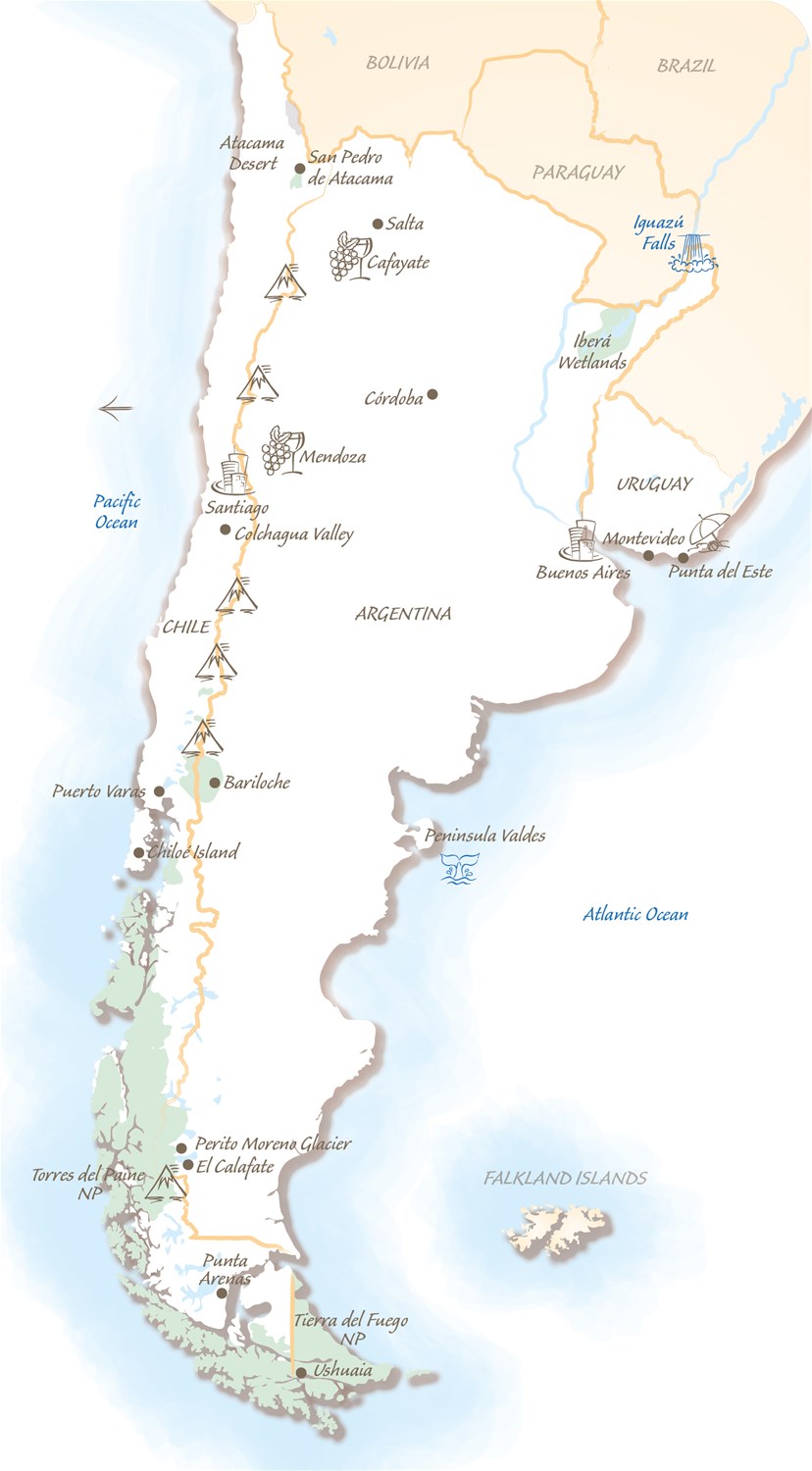 El Calafate
El Calafate, in Argentine Patagonia, is widely known for being the gateway to Los Glaciares National Park. The parks most famous attraction is the awe inspiring Perito Moreno Glacier, a vast wall of blue ice, flanked by towering peaks that creak and groan under the pressure of the huge icefield pushing down the valley. Gaze in amazement from the boardwalks offering fantastic glacier views, embark on a guided trek across the ice, or even take to the water and kayak in front of the glacier face.

El Chalten
The small town of El Chalten, a few hours drive from El Calafate is often referred to as the 'trekking capital of Argentina' and is surrounded by spectacular mountain scenery including the towering peak of Mount Fitz Roy. Enjoy a guided trek with a professional mountaineer or take one of the many self guided trails, of various lengths and difficulties passing pine forests, glittering glaciers and deep blue lakes.

Torres Del Paine National Park
Torres Del Paine National Park is one of South America's most popular and spectacular national parks. Rugged and windswept landscapes blend seamlessly with the towering granite peaks of the Paine Massif, turquoise lakes, cascading waterfalls and striking glaciers. Walking trails through this breathtaking scenery range from short half day hikes to multi day trekking adventures. You may even catch a glimpse of the local wildlife including guanacos and pumas.

Southern Patagonian channels & fjords
The beautiful and untouched scenery of the Southern Patagonian channels is best discovered by cruise on board a fascinating expedition ship, specifically designed to navigate the labyrinth of fjords and waterways. Take daily excursions to stunning vistas overlooking glaciers, crystal clear lakes and search for wildlife. This is a comfortable and fascinating way to explore parts of Patagonia few people are lucky enough to witness.

Tierra Del Fuego
For those seeking ultimate isolation, journey to one of the most remote places on earth, Tierra Del Fuego to see untouched national parks, isolated communities and rugged scenery. A visit to King Penguin Park is a highlight of any visit, one of the few places outside of Antarctica where king penguins can be seen in the wild. At the Southernmost tip of South America, Ushuaia is a fantastic city overlooking the Beagle Channel and offers many trekking and wildlife viewing opportunities. Ushuaia is also the gateway for most trips to Antarctica.

Aysén Region
Accessible from Balmaceda, which is served by daily flights from Santiago, this lesser visited corner of northern Chilean Patagonia is equally as stunning as it's well known counterparts and offers dramatic landscapes, turquoise lakes, hanging glaciers and spectacular national parks. One of the highlights of the region is the incredible marble caves which have been formed by the erosion of multi coloured rock to create a magical cave system.
OUR RECOMMENDED HOTELS IN PATAGONIA
Patagonia

Fast Facts

flightaccess_time
Flight Time to Patagonia
Approx
hours
public
Visa Required?
€20 Off your visa service charge if you have booked your holiday with Trailfinders.
verified_user
Recommended Immunisations
None
20% Discount off immunisations at our London Travel Clinic if you have booked your holiday with Trailfinders.
business_center
Trailfinders Travel Insurance
Enjoy comprehensive cover in Patagonia from just €69 for 7 days with our superb value Single Trip Travel Insurance.
Visa information given is given for Irish citizens holding a valid Irish passport with at least 6 months validity remaining. Immunisation guidelines assume routine Irish childhood immunisation has been given and will not apply to all situations. Medical advice should be sought. Your Trailfinders consultant will advise you of the specific visa and immunisation requirements for your trip.
YOUR TRAVEL PLANS ALWAYS TO HAND, ANYWHERE, ANYTIME - YOUR ESSENTIAL TRAVEL COMPANION
Our free Viewtrail App stores your essential travel information in one secure place, ensuring we are with you from start to finish.
View your travel plans on or offline, wherever and whenever you wish
Live flight notifications - real time information as you travel
Online check-in links and pre-tour notifications
Luggage allowance
Mapped places of interest - restaurants, shops, stations...plus route guidance back to your hotel
View e-vouchers and export them to your Apple wallet
Secure access to booking history, profile and insurance contact information
One touch emergency contact 365/24/7
Add to calendar function
Countdown to travel
Local time, weather, translator and exchange rate calculator
Sign up for our Email and be the first to hear about our Red Hot Offers and Travel Inspiration.
Our full range of 2020 brochures and the latest edition of the Trailfinder magazine are out now - get ahead of the rest and start planning your next escape.
If you can provide a few more details we can look at the best available options before we call you.