One of South America's most captivating destinations; a journey in the footsteps of the Incas and conquistadors, Peru's empire builders, is a wonderful adventure.
Lying at the heart of the Inca Empire, Peru is home to a host of magnificent archaeological treasures from the temples and fortresses in Cusco and the Sacred Valley to the majestic 'Lost City of the Incas' Machu Picchu, one of the historical treasures of the world. In addition to Inca history, you'll find adobe pyramids from ancient cultures, vast mysterious lines in the desert and grand Spanish colonial cities dotted all over the country.
The natural beauty is more than a match for the culture too with the magnificent Andes Mountains, swathes of thick Amazon jungle, glistening lakes and desert sand dunes all vying for your attention. Throw in the warm-hearted Peruvian people, incredible cuisine and a rich and multi-layered culture and you have a country that should be on everyone's bucket list.
Trailfinders helps thousands of people plan their holidays to Peru every year and we have a dedicated team of destination specialists. Whether you are looking for inspiration on where to go or want to know the best way to get about, what to see and where to stay– they are the perfect people to put it all together for you.

Order your brochure
WHERE TO GO IN PERU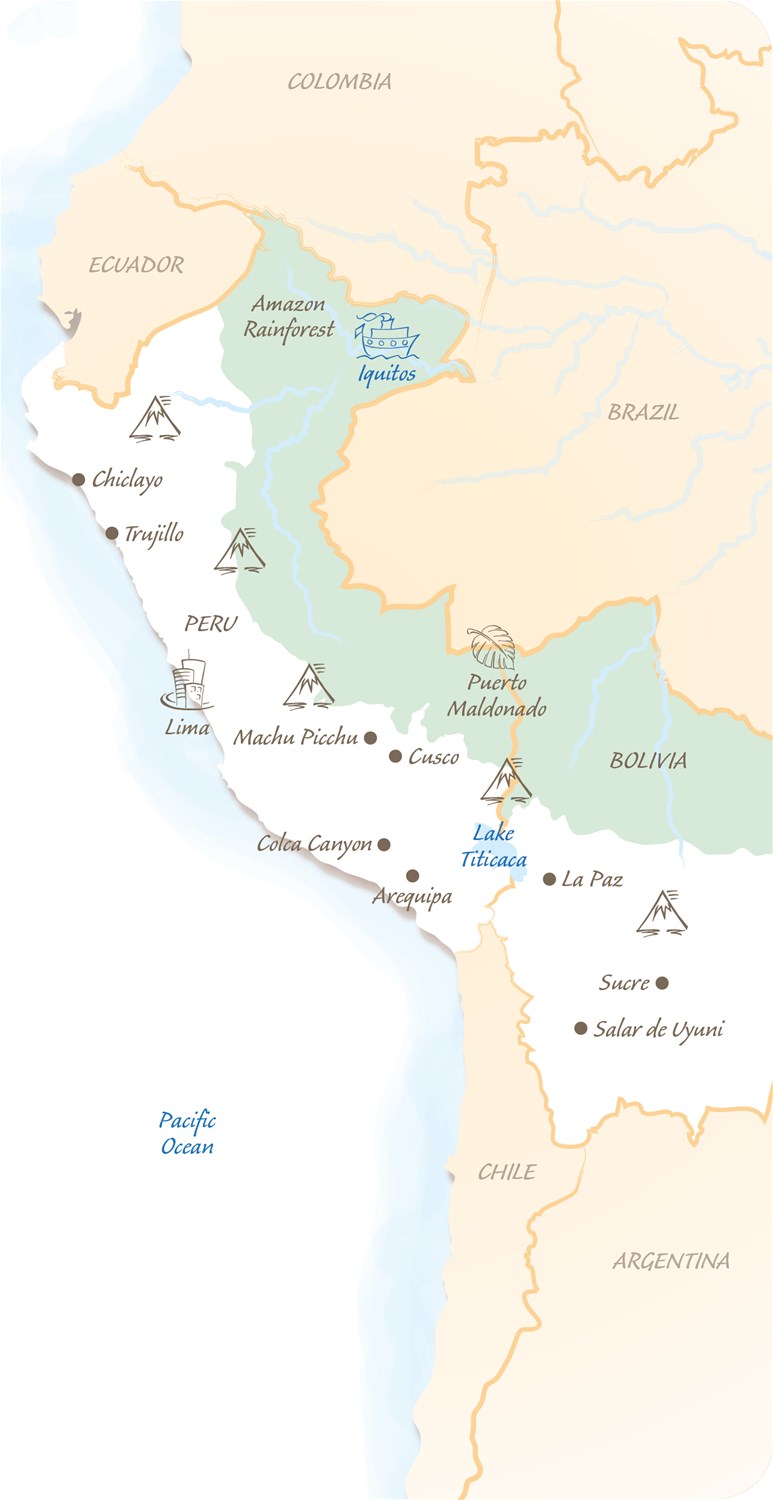 Lima
Peru's sprawling capital city is a busy metropolis originally named the 'City of Kings'. Its 43 districts are a varied mix of modern skyscrapers, colonial architecture and affluent beachside residences. The magnificent town square, the Plaza de Armas, is a UNESCO World Heritage Site situated right in the heart of the city.

Cusco
The former capital of the Inca Empire, Cusco is a vibrant city where traditional and modern sit side by side in perfect harmony. Its charming cobblestone streets are home to both beautiful Spanish colonial architecture and impressive Inca stone walls whilst fashionable boutiques can be found alongside bustling local markets – this historic city is a true delight.

Machu Picchu
Mysteriously abandoned by the Incas and hidden amongst the jungle for centuries, the spectacular 'Lost City of the Incas' was re-discovered by American explorer Hiram Bingham in 1911. Translated from the Quechua language as Old Mountain, Machu Picchu is an awe-inspiring site which deserves its title as one of the New Seven Wonders of the World.

Sacred Valley
Set between Cusco and Machu Picchu, the Sacred Valley of the Incas is home to spectacular scenery, traditional Andean villages, colourful markets and several important archaeological sites. Mild weather, fertile plains and the rushing Urubamba River made this an important area for the Incas and is now a wonderful destination to spend a few days.

Colca Canyon
The Colca Canyon is one of the deepest canyons in the world, twice as deep as the USA's Grand Canyon! The scenery is dramatic with rough jagged cliffs, soaring Andean Condors and herds of wild vicuña (a relative of the alpaca). The native people continue to maintain their culture and traditions by cultivating the steppedterraces which date back to pre-Inca times.

Lake Titicaca
A shimmering deep blue lake, surrounded by mountains and dotted with tiny islands, Lake Titicaca is breathtaking. Set high in the Andes, straddling the borders of Peru and Bolivia, this is the largest lake in South America. Visitors can learn about local indigenous cultures on Peru's Taquile and Uros Islands and discover interesting ruins on Bolivia's Isla del Sol.

Peruvian Amazon
Covering over half of the country, Peru has the privilege of being home to a sizeable chunk of the mighty Amazon Rainforest. Access this vast wilderness via a cruise from the land-locked city of Iquitos in the north or stay on firm ground in a jungle lodge from Puerto Maldonado in the south. A visit to the jungle is guaranteed to be an adventure like no other!

Arequipa
Framed by three volcanoes and filled with striking colonial architecture, Arequipa is famous for its beauty and rightly so. It is known as the Ciudad Blanca (White City) since many of its buildings are built with an off-white volcanic rock which dazzles in the sun. The city is also known for its spicy regional cuisine.

Máncora
The beach village of Máncora is a draw for those looking for long sandy beaches, tropical sunshine and is one of the most popular surf spots in the country. From the lively town to quieter stretches of beach, this destination offers palm-fringed sands with magnificent sunsets over the Pacific Ocean.
OUR RECOMMENDED HOTELS IN PERU
When is the best time to visit Peru?
Top Tips From Our Experts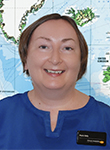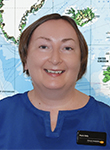 Marie Kiely
Don't rush through Lima. It's a city that definitely merits at least two full days. Full of character with some amazing museums (the Larco Museum is definitely worth a visit), plenty of art in the neighbourhood of Barranco and some amazing restaurants.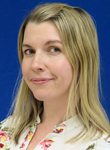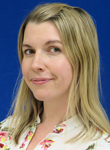 Kerry Ann Govier
If you are staying in Aguas Calientes, get up early and take the first bus up to Machu Picchu. You might not have the site all to yourself but you'll beat the crowds arriving when the trains start arriving from Cusco and Ollantaytambo.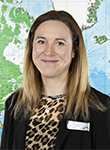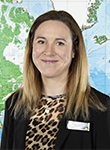 Michelle Tachon
Experience nature at it's finest in the Peruvian Amazon. Whether you choose to stay in a lodge or spend a few nights on a cruise, the expert guides will be able to spot all kinds of wildlife from butterflies and monkeys to birds of all colours of the rainbow and talk about the daily life of communities living in this vast wilderness.
Peru

Fast Facts

flightaccess_time
Flight Time to Peru
Approx
15 hours
public
Visa Required?
For stays over 180 days only
€20 Off your visa service charge if you have booked your holiday with Trailfinders.
verified_user
Recommended Immunisations
Diphtheria/Tetanus/Polio booster
Hepititis A (vaccine recommended)
Malaria
Rabies
Typhoid
Yellow Fever

20% Discount off immunisations at our London Travel Clinic if you have booked your holiday with Trailfinders.
business_center
Trailfinders Travel Insurance
Enjoy comprehensive cover in Peru from just €69 for 7 days with our superb value Single Trip Travel Insurance.
Visa information given is given for Irish citizens holding a valid Irish passport with at least 6 months validity remaining. Immunisation guidelines assume routine Irish childhood immunisation has been given and will not apply to all situations. Medical advice should be sought. Your Trailfinders consultant will advise you of the specific visa and immunisation requirements for your trip.
YOUR TRAVEL PLANS ALWAYS TO HAND, ANYWHERE, ANYTIME - YOUR ESSENTIAL TRAVEL COMPANION
Our free Viewtrail App stores your essential travel information in one secure place, ensuring we are with you from start to finish.
View your travel plans on or offline, wherever and whenever you wish
Live flight notifications - real time information as you travel
Online check-in links and pre-tour notifications
Luggage allowance
Mapped places of interest - restaurants, shops, stations...plus route guidance back to your hotel
View e-vouchers and export them to your Apple wallet
Secure access to booking history, profile and insurance contact information
One touch emergency contact 365/24/7
Add to calendar function
Countdown to travel
Local time, weather, translator and exchange rate calculator
Sign up for our Email and be the first to hear about our Red Hot Offers and Travel Inspiration.
Our full range of 2020 brochures and the latest edition of the Trailfinder magazine are out now - get ahead of the rest and start planning your next escape.
If you can provide a few more details we can look at the best available options before we call you.